Coinbase Ecosystem 🤝 Mintify Pro Trading Ecosystem
We are excited to announce our integration with Coinbase, the leading digital currency exchange and platform for buying, selling and storing digital assets. This integration makes it easier for Mintify's community of pro traders to discover, analyze, and trade NFTs listed on Coinbase, and provides Coinbase users access to Mintify's powerful trading tools via the Coinbase Wallet. What's more, developers will be able to leverage Coinbase data to build Mintify modules and services.
Our support for Coinbase's non-custodial Wallet and Marketplace gives pro traders access to a set of trusted, safe, and secure tooling to interact with NFT markets supported by Mintify. By combining the power of Mintify's terminal with the accessibility and usability of Coinbase functionality, we hope to support a new generation of NFT Traders looking to interact with and better understand NFT based economies.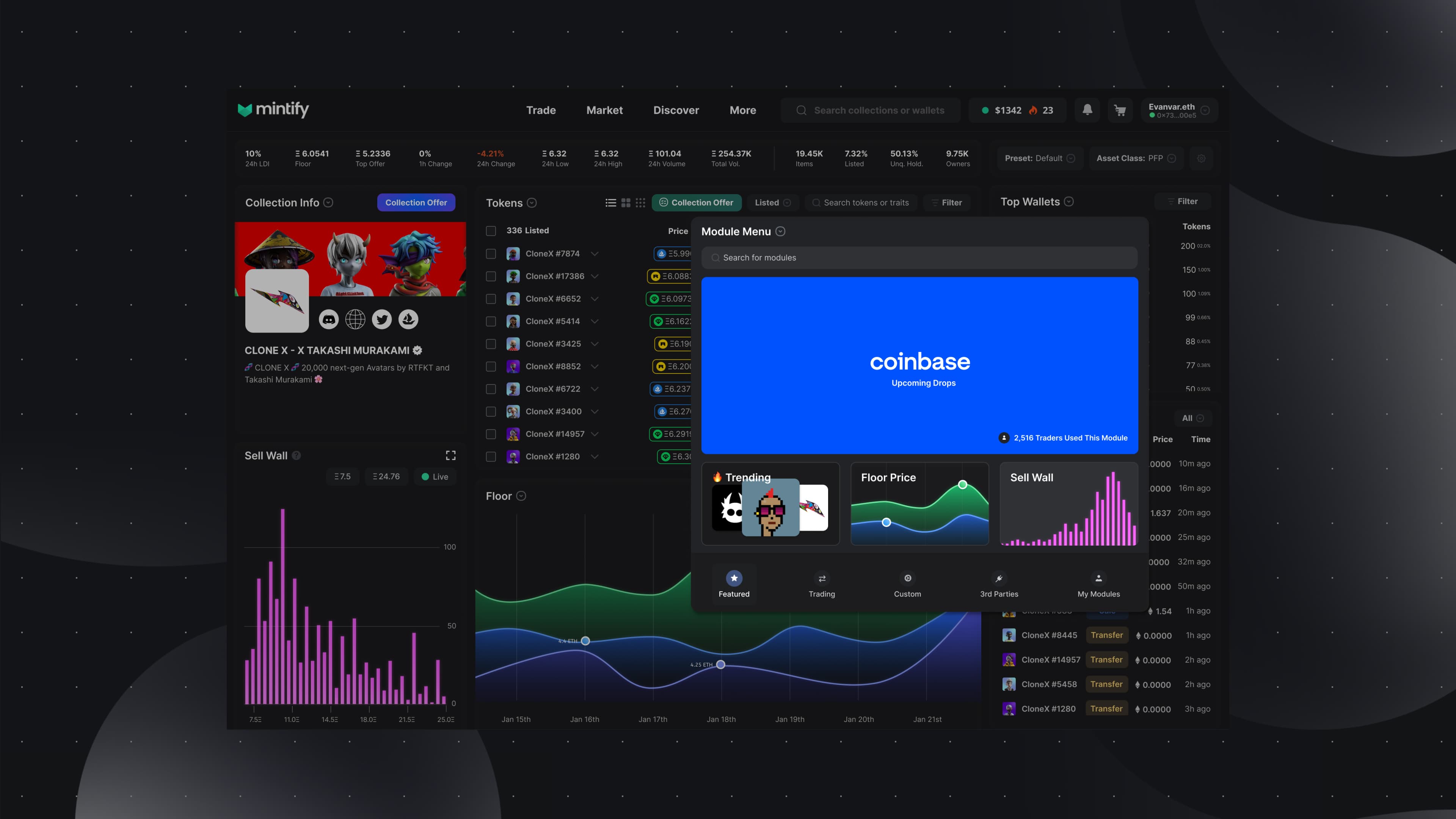 This release also enables Mintify community members to build their own trading interfaces with Coinbase's orderbook and public data. With the Mintify SDK, builders can mix and match modules from a wide range of sources, and use our infrastructure to build unique and customizable trading experiences. 
We are also excited to announce that we are working on a new feature called USDC Wallet Top Ups, scheduled for release later this quarter. The wallet top up is an opt-in feature that allows any trader to buy USDC directly using the Coinbase Pay SDK. This is especially useful for users that need additional capital during a time sensitive trade.  This smart feature will be available just-in-time from the Coinbase wallet, and will prompt users  to add the difference in amount between what is available and what is needed to execute an active trade. 
Mintify is committed to building an ecosystem where platforms like Coinbase can support up and coming NFT economies such as gaming, music, metaverses, and real world assets. We hope that a deeper integration with the Coinbase family of products and services will positively benefit Mintify's growing user base of builders, traders, and creators . 
—
Have a question? Come stop by out Discord 🙌
A little more about us: 
Mintify is designed and built for users to make informed trading decisions. The platform caters to a new type of NFT trader looking for better tooling to discover, trade, and manage their NFT portfolios. We are pushing the boundaries of trading interfaces by offering unique functionality like TradingView indicators for NFT Collections, real-time NFT data and super fast pro dashboards to make quick trading decisions.