Bear or bull market we keep building, this has been our approach since we've started working on Mintify. These last few months have been intense but we kept our heads down and focused on delivering. We kept shipping features and improvements daily, drop after drop.
…But what if all this was just the beginning?
In the coming weeks we'll be introducing some products and tools that will forever change the way pros and quants discover, trade, and manage their NFT portfolios. 
Make sure to subscribe to our newsletter or follow us on Twitter.
Until then, here's a quick ICYMI:
Market Indexes: We are working on multiple market indexes for collections, the first indexes that we'll roll out will cover: a) Blue-chip to 10 b) Top 50 Based on 30-day Vol c) Metaverse Index d) Utility Index You'll have the option to switch between floor/sales/ or volume for each index. The new indexes will be available in the coming days under the Market Data page.
One Chart that rules them all: We are working on a chart that will revolutionize the way you do TA for NFT collections. We teased it earlier this week on our Discord. In short, the new chart will support all TA indicators, RSI, EMAs, and all the available and known tools to do draw on charts.
Daily Alpha, Deep Dives, and TA Discord Channels: We are incredibly excited to announce our new channels that @jwalker will be contributing starting from this week. The daily alpha channel will be your go to channel every morning to get a quick update on breaking (NFT) news, hot drops etc. The Deep dives forum will feature in-depth reports about upcoming blue-chips or exciting collections that you can download in a PDF format.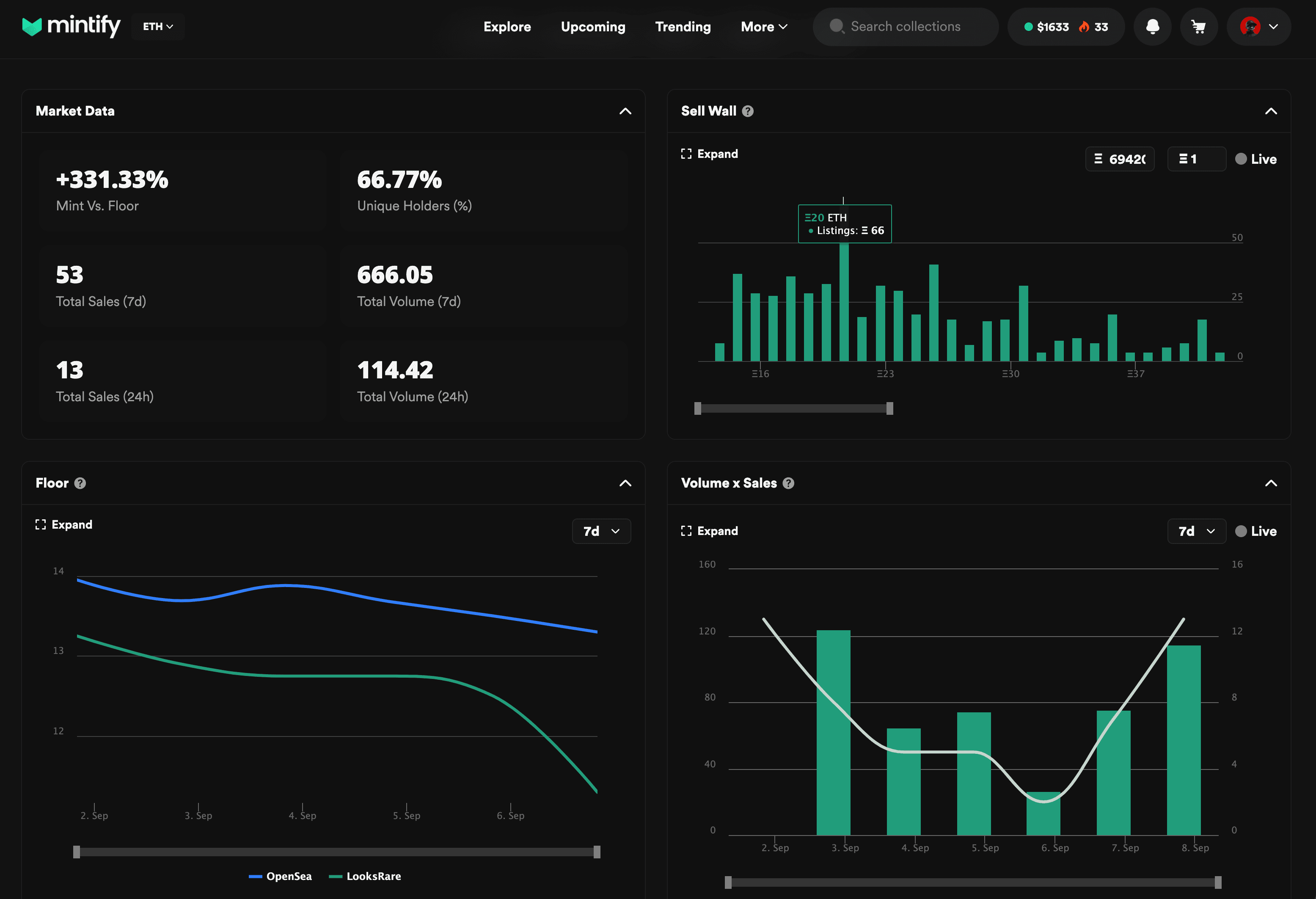 Free Trial: We'll be opening our 30-day trial on Friday 09/17, anyone will have the option to sign in with their wallet and test all the features of the platform for 30 days (excluding the superNode and 1-click-WL).
Subscription Plans
We offer 2 different subscription plans to choose from. Compare the features by clicking the link below:
Holders Tab and Wallet Explorer: We've already started developing our Wallet Explorer infrastructure which is a crucial part of the "Holders" tab for collections. In short, we are pulling and categorizing ALL ETH wallets so you can search for each wallet within Mintify and see their tokens, their activity, each wallet's worth, and whether they are classified as Blue-chip or Whales. We are doing this with a unique approach that focuses on accuracy, most of the analytics platforms that have a "holders data" tab display outdated or inaccurate data whereas our goal is update everything in real-time so we can support real-time alerts (e.g. Wallet 0x5 purchased 2 Fidenzas) as well as to offer you the option to blindly follow each wallet's trades later in Q4.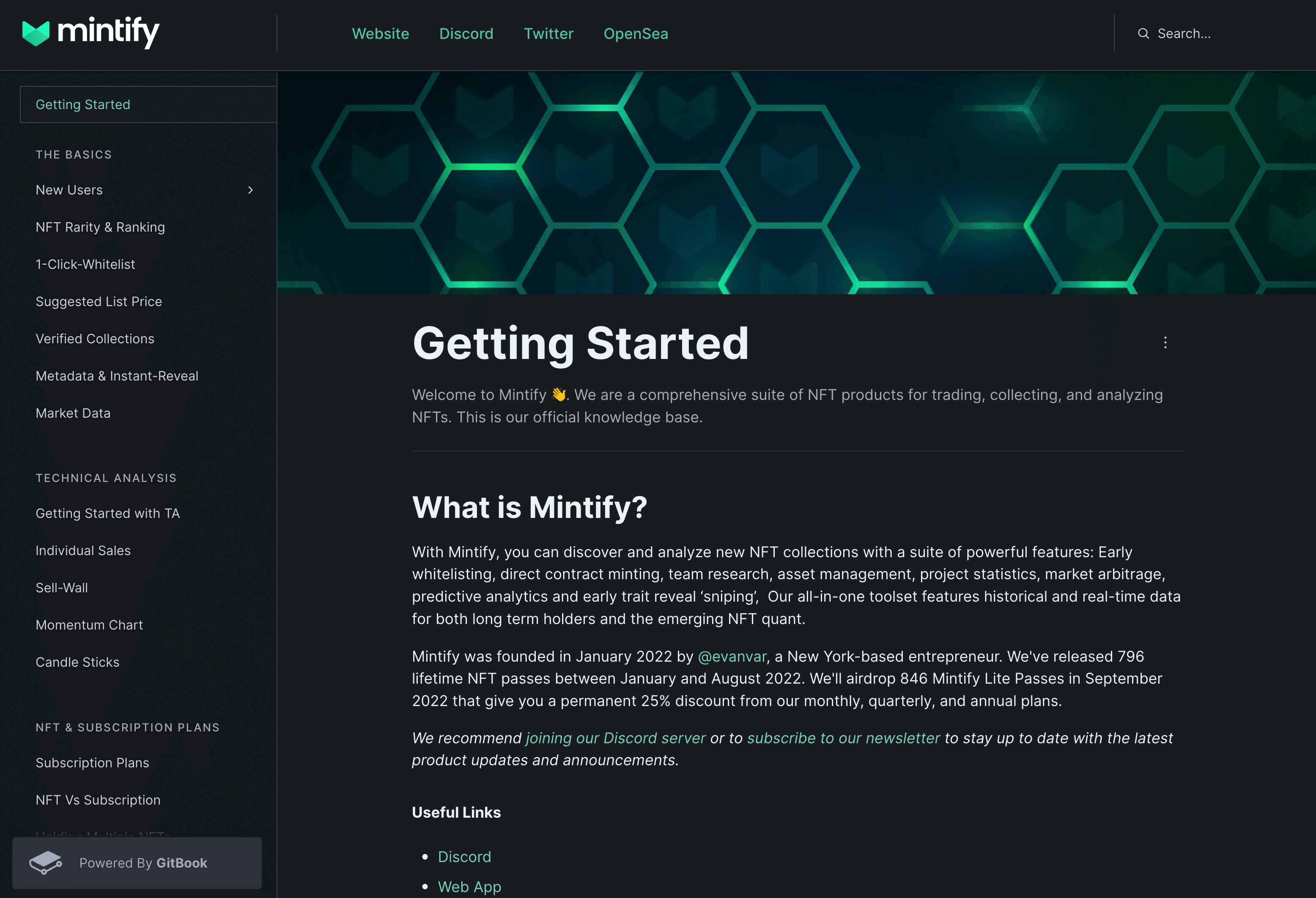 GitBook / Docs: We've been adding a ton of content on our GitBook these last few days and we'll continue to do so. Our goal is to create as much content as possible around our features and charts and show you how to use them. Here are some examples:
Quick-buy is now available: You can now buy NFTs straight from the tokens page or the order book by skipping the "add to cart" flow. We are also working on deploying our own bridge smart contract and let you pre-authorize purchases and preset your gas settings.
Mintify PFP Collection: We've been vetting artists since June for our upcoming PFP collection and Im excited to announce that we've just signed an incredibly talented artist @NostalgicScarlett that has been killing it on Foundation to design our upcoming PFP drop. Currently we are looking at dropping this early November and we'll share more details around the mechanics in the coming weeks.
Candle Sticks (Beta): We've just rolled out candle sticks in beta for sales. This is the first step towards implementing candle sticks across all the charts so we wanted to share our methodology and get your feedback. For our v1 we went with highs/lows per data point and made sure to hide wash trades and outliers. The current structure supports 24h/7d/15d/30d but we are already working on an improved structure that lets you see all data points and instead of limiting the timeframe you'll have the option to focus on a specific area by zooming in/out. Please keep in mind that this is currently in beta and some collections might show some extreme swings.
Mintify Lifetime Pass: Our OpenSea collection is now verified
Mintify Lite Pass Airdrop: We've airdrop the Mintify Lite pass to our holders, you can check the collection on OpenSea here:
Lite Pass Giveaway: Join our raffle to win one of the 50 Mintify Lite passes
That's all for now, join our Discord to stay updated with the latest announcements and get access to our daily alpha updates and deep dive reports.